Send me photos of Kelly ancestors and I will post them.
Click the Genealogy link
above for more...

2015 Kelly Family Reunion
June 19, 20 and 21, 2015
click here for information on the Golf Tournament

Address:
Brian & Lynne Kelly
2568 Burnham Line
Otonabee, Ontario, K9J 0G6

(same address, just changed from Peterborough to Otonabee)

Tel: 705-743-9908
Email: lynneandbrian@hotmail.com

The cost of the event is as follows:
Adults: $ 40.00 each
Youth (6-12): $20.00 each
2--5 yrs: $5.00 each
Over 80 or under 2 = Free

Registration fees due April, 2015
to your family contact.

Further Details:
1. Let your family contact know if you are planning to attend.
Provide the number of people from your family and
on which day you plan to arrive (Fri or Sat).
This will help plan for food/drink requirements.


2. Provide up to five photos of your family and identify the members.

3. Indicate is you are interested in playing golf on Friday.

4. Let your family contact know if you want to book some space for your tent at Brian and Lynne's.
5. Sorry, no pets allowed at the reunion.

6. Volunteers needed to prepare/serve food,
and help with the kid's activities (facepainting, etc).
Please indicate if you can do any of these.

The 2015 reunion will be at a lovely place in Peterborough,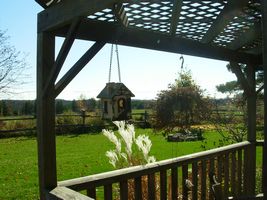 with rolling hills,

a hottub, wild turkeys in a field with a golden lab chasing them,
farm fencing, port-a-potties, (no photos, sorry)
tug-o-war space,
room for some tents for camping onsite
and kids running around
and a spectacular view because it is all the way up at the top of the hill.

Help Keep KellyOKelly alive!
Help me with the costs of this site.
Thank you! Denise
Kelly People page

check out what people you know are doing with their lives


KellyOKelly Email list
Join the email list and you will receive all the news from KellyOKelly.
(You can send as well)


Take the KellyOKelly Survey - help make the next reunion better!

Take a survey of the
2010 Reunion